Welcome to Candy's Pampered Pets
Esther Ho, Proprietor
Hayward, California
Dependable and personalized in your home pet care
We'll always be there for you,
whatever the reason or the season.
Licensed, Bonded and Insured
BBB honor roll for the 12th year
Remember, Paws…….Chirps…..All!!!
Serving Castro Valley, Hayward, San Leandro and San Lorenzo.



"A sit begins with trust,
and ends with more trust."

[Click on BBB logo on Left
for the reliability report
for Candy's Pampered Pets]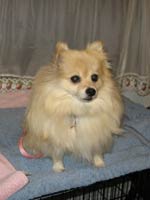 In 2008, Candy's Pampered Pets (CPP) entered the Bay Area Best Pet Sitting contest, sponsored by the San Francisco Chronicle (SFgate.com); as a result, 55 voices were heard between 8/5/08 and 9/16/08.
Click here for our customers' voices!
"Trust is earned....CPP more than earned my trust with one of the most impt things in my life....my best friend, my dog."
by jimk10, 8/9/2008
"The level of care is beyond passion, with total care dedicated to the welfare of pets, and above all, to their owners, with a heart that is filled with compassion and a vision from within." by Petpride, 9/8/2008